District Profile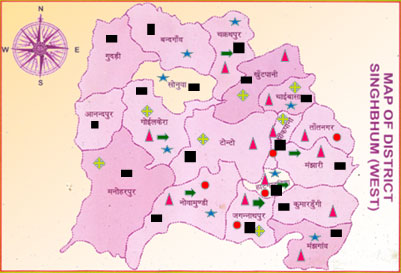 Major Farming System
Upland rice – fallow – fallow
Transplanted rice – paira (linseed / lathyrus) - fallow
Transplanted rice – mustard / chickpea / vegetables
Agro-climatic Zone
Zone VI – South eastern plateau
Agro Ecological Situation
(i)   Kolhan-Porahat upper plateau rainfed and dense forest
(ii)   Kolhan lower plateau rainfed moderately high and forest based
(iii)  Kolhan comparatively plain and rainfed
Geographical Location of KVK
Latitude – 220.13.0404' North
Longitude – 850.38.375' East
Geographical location of District
210 58′ AND 230 36′ north latitude and 850 0′ & 860 54′ East Longitude
|   |   |
| --- | --- |
| Geographical area | 519825 ha |
| Forest | 109624 ha |
| Gross cropped area | 258844 ha |
| Cultivable area | 220125 ha |
| Area under more than crop | 11068 ha |
| Net cropped area | 185486 ha |
| Cropping intensity | 114% |
| Current fallow area | 60928 ha |
| Soil Texture | Sandy-loam |
| Net irrigated area | 15000 ha |
| Annual Rainfall (average) | 1254 mm |
| Total population (Census 2011) | 1502338 |
| Male | 749385 |
| Female | 752953 |
| No. of Agricultural Families | 131473 |
| No. of Small Farmers | 18508 |
| No. of Marginal Farmers | 76655 |
| Tribal Population | 67.3% |
Major Area of Intervention
Management of acid soils
Promotion of rabi oiseed and pulses in rice fallows
Management of waste land
Use of organic and inorganic fertilizers in rice
Introduction of IPM and INM technologies in different agronomical and horticultural crops
Front Line Demostration of bio agents and bio pesticides to farmers
Incorporation and promotion of eco-friendly chemical pesticides in IPM strategies
Mass production of bio fertilizer (Vermicompost and Azola)
Reduction in use of highly toxic pesticides spray in vegetable crops
Entrepreneurship development among rural youth through establishment of small scale production unit of vermicompost and mushroom
Introduction of protective cultivation technology for better productivity & quality production
Horticultural nursery development for the rural youths
Supply of quality seeds at farmers door steps
Promotion of green fodder cultivation
Enhancing nutritional status among womenfolk
Empowerment of women for quality life


 
Demo Unit
Meteorological Unit :
Set up for day to day weather information for proper crop care.
Seed production Farm :
Good quality seeds of paddy, ragi, wheat, mustard, greengram, vegetables and flowers produced and supplied to the farmers field.
Mother Plant Nursery :
Set up for selling good quality planting materials of mango, guava, lemon, papaya, vegetable and flower are produced for the farmers at a very nominal cost.
Bee Keeping Unit :
Established for honey production and better crop production through improved pollination.
Mushroom spawn production Unit :
Promotion of mushroom cultivation at farm level by women folk to supplement low cost protein in daily diet.
Vermicomposting Unit :
Promotion of small unit at farmers' level with worm spices (Eisenia foetida,) for organic farming and improving soil health.
Dairy unit:
Promotion of artificial insemination (AI) to remote island and practical demonstration for trainees. Promotion of green fodder cultivation
Azola Unit:
Promotion of animal feed for milch animal and bio-fertilizer for rice crop.
High density mango (Amrapali) orchard:
High density mango (Amrapali) orchard: